An Interactive Storytelling Session with Shanthini Venugopal of The Jumping Jellybeans!
Listen to stories about an Enormous Turnip, why Jellybeans are colourful and how Elephants lost their wings! Suitable for children of all ages and their parents too. RM 10 per person; for reservations please contact info@ilhamgallery.com
DATE: SATURDAY, 28 NOVEMBER, 3PM
FACILITATORS BIO: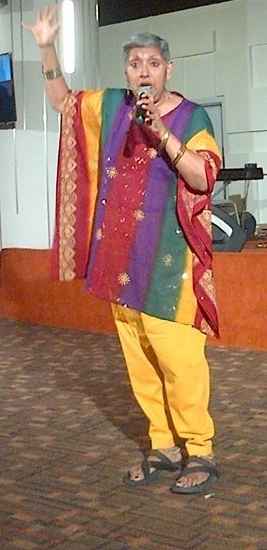 Shanthini Venugopal has been in the theatre industry for over 30 years. She is a singer, actor, director, and teacher. She has free-lanced as a producer, stage manager, props and front of house for various theatre companies in Malaysia since 1981. She attended theatre training courses at Odin theatret in Denmark in 2001 and 2005 and in October 2012, attended a Director's Workshop. 
She started The Jumping JellyBeans (JJB). It was formed in 2000 specializing in productions for children. JJB has performed extensively throughout Malaysia, England, Denmark, Australia and has participated in International Children's Theatre festivals in Iran, Singapore, India and Germany. She can also be heard on radio and TV commercials doing voice-overs and jingles. She acted in the Hollywood movie 'Anna and the King' co-starring with Jodie Foster and Chow Yuen Fatt in 1999. 
She shares her theatre training with students with learning disabilities since 2001. JJB's work with special needs students was recognized by the theatre community in Malaysia and they were awarded the Cameronian Awards for 'Best Community Arts project' in 2005 sponsored by The British Council Malaysia. As part of the prize, JJB had the opportunity to spend 10 days in the United Kingdom working with theatre groups there who did similar work with special needs youth and adults. This was a great opportunity for a cultural exchange and JJB brought back a wealth of information upon their return and incorporated some of these training techniques. JJB's work with special children is supported by Nestle Malaysia since 2003 to present.
She conducts theatre workshops and seminars for adults on a freelance basis.
She also freelancers as an actor with various theatre companies. Her recent performance in the production 'Chow Kit Road! Chow Kit Road, the Musical' played to rave reviews in May 2013 at Istana Budaya, produced by Masakini Productions.